There are several key elements that are essential for creating the perfect plastic part. At The Rodon Group, our dedicated team of plastic injection molding experts fully understands what it takes to create high-performing, reliable components, and, unlike most other companies, we pride ourselves on being a complete turnkey precision component manufacturer, designing and tooling all parts in-house and carefully overseeing every step of the production process.
Below, we share our key areas of focus in the plastic injection molding process; together, these critical elements allow us to manufacture the ideal plastic part for each of our customers, no matter how complex or unusual the specific application.
Mold Design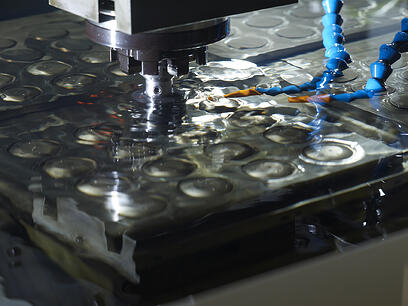 First, the design of the mold is critical for ensuring that the plastic injection molding process can produce a high volume of parts with optimal efficiency and consistency. At Rodon, our team of engineers excels in the design of molds that deliver high-quality parts the first time around — eliminating the risk of costly delays and material waste.
With more than 25 years of experience in the field, our engineers have the skills and creativity needed to create any type of custom mold, even for the most challenging situations. Using state-of-the-art technology, including CAD/CAM systems, our team works closely with customers to fully understand each part's key requirements, including its function, application, relation to other parts, dimensions, and ability to withstand certain elements, pressures, and chemicals.
With the answers to these questions in hand, the engineering team is then able to determine the key design elements needed to ensure that the injection process will work correctly. These elements include wall thickness, rib design, boss design, corner transition, weld line, and gate/vent placement — all of which are taken into account to create the ideal custom mold.
Once the initial draft design is complete, we conduct a design for manufacturability (DFM) analysis to ensure that the design meets the highest quality standards. And once the design is finalized, the team can start building and testing the new mold.
Tool Designing and Testing
Without a perfect mold, it's nearly impossible to produce a perfect part. So, at The Rodon Group, we take great care with our toolmaking procedures. Because toolmaking requires a lot of time and must allow for optimal accuracy, this step often represents the most substantial investment in a company's manufacturing process. But precise tooling is critical to the success of any plastic injection molding project.
At Rodon, we specialize in creating high-quality, precision-engineered molds that are built to last. Our toolmaking process focuses on a few main areas to ensure we're creating the perfect mold:
Solid design and engineering
High-quality stainless steel mold bases and cavities for optimal performance and durability
Use of state-of-the-art equipment for precise machining
Attention to strict quality standards and tight tolerances
We understand that creating a quality precision mold is a significant investment for your company, so we make a concerted effort to maximize your return on investment (ROI) by optimizing the following features.
Core Metal — At The Rodon Group, all of our molds on hand use stainless steel as the core metal. For decades, these molds have been able to withstand the pressure of long production runs while still meeting close tolerances.
Number of Cavities — We look to maximize the number of cavities in the mold to maintain the highest level of productivity.
The Mold Base — We estimate the cost of the base — which holds all of the mold cavities, inserts, and components together — based on its size, as well as the type of steel used to make it and allow for the necessary level of customization.
Core/Cavity Machining — We customize molds through the careful placement of cores, cavities, ejectors, cooling lines, and so on.
Part Complexity — We determine the cost of the mold — based on part complexity — including the surface finish of the final part, and the number of undercuts required.
In this way, we can ensure that your mold will last for many years to come. After taking all of these key features into account, actual construction of the mold can begin. During the building process itself, our team uses 420-grade stainless steel as our core tooling metal. To maximize toughness, our engineering team crafts every mold with the maximum number of cavities for the highest efficiency possible during production.
To create a mold, we can reverse engineer a design from a supplied part, or create a mold based on the customer's drawing or CAD file. For the toolmaking process, the team uses several different pieces of equipment — including EDM equipment, CNC mills, lathes, and grinding machinery — to create the part. Once the mold has been built, we then can select the appropriate resin.
Resin Selection
Choosing the right material for a plastic part is also critical for ensuring the success of the plastic injection molding process. Over the last couple of decades, advances in polymer science have allowed for a more comprehensive assortment of available resins, leading to an uptick in the use of plastic in various applications, as well as an increase in available plastics with higher strength and endurance. At The Rodon Group, our manufacturing team has experience working with a wide range of different resins for various types of applications.
We work closely with each customer to establish key requirements for the resin. These requirements include the part's desired appearance, such as texture, color, or transparency; the part's strength, flexibility, or rigidity; the part's chemical or environmental resistance; the part's regulatory requirements; and the part's life expectancy.
Throughout our company's history, we have developed close relationships with some of the highest-regarded resin suppliers in the United States, so our customers can be sure we're using only the highest-quality, most reliable resins available.
Production and Quality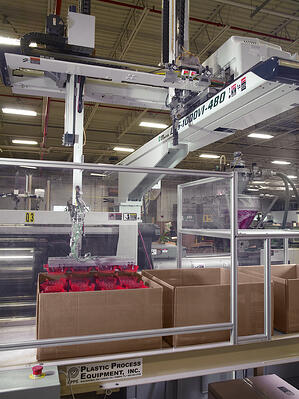 Once the mold has been finalized and the resin chosen, production can finally begin. We house 117 cutting-edge presses in our facility, with varied capabilities and performance options. The team selects which machine to use based on the size of the mold, the number of cavities, and the selected resin.
We then conduct an initial sample run to make sure no defects are occurring. If defects are found, we make corrections to them; if no defects are found, we move forward with production. The team continues to conduct quality checks throughout the entire course of the production process to ensure all products meet the highest of plastic quality standards.
Our metrology lab is equipped with state-of-the-art inspection equipment, and we implement a two-step quality inspection process to ensure each of our products meets strict quality standards. We are ISO 9001:2015 certified and are very proud to hold a 99.8% part satisfaction rating among our customers.
At Rodon, we specialize in just-in-time (JIT) manufacturing to monitor and adjust quantities as needed. We also maintain our clients' inventory in-house, meaning they have access to the parts they need when they need them. Rodon utilizes a material requirement planning (MRP) system to track our customers' inventory levels and anticipate any increases in future demand.
Our team values plastic quality above all else, and we're committed to providing the best parts possible - all at the most competitive prices.
Learn More
Rodon's focus on these key elements ensures that our clients receive perfect plastic parts, every time, for every job. To learn more about the plastic injection molding process and how it can help with your next project, check out our free eBook, "How to Manufacture a Perfect Plastic Part" If you have a high volume project you'd like to discuss with us, please contact us.