Many companies utilize offshore manufacturing to save on labor costs and raw materials. When it comes to fabricating plastic injection molds, those savings may seem significant; however, offshore manufacturing often comes with many drawbacks such as shipping delays and low product quality. These issues quickly eliminate any cost benefits associated with Chinese injection molds as they often result in the need for reworked parts.
At The Rodon Group, our injection molds are made in the U.S. using methods that are designed to help beat Chinese prices. This allows you to reap the benefits of lower costs while eliminating the risks associated with offshore manufacturing.
Chinese Molds vs. U.S. Molds
Chinese manufacturers may offer low-cost injection molds and fast construction times, but these so-called benefits are soon outweighed by other factors, especially if your business needs more complex parts.
Drawbacks of Using an Offshore Chinese Supplier
Disadvantages of working with an offshore Chinese supplier include:
Hidden Costs. Chinese manufacturing quotes often leave out costs associated with warehousing, international insurance, translators, and shipping.
Lower Quality. Chinese manufacturers often lack sufficient quality control and use lower-quality materials in an attempt to increase their profit margins. This results in low-quality finished products that could result in safety recalls that could affect your brand's reputation.
Mismatched Design Expectations. Chinese manufacturers often include design features that do not align with your expectations. For example, since labor rates are lower in China, they may find hand de-molding acceptable. However, North American molders often require automatic de-molding since labor costs are higher.
Longer Design Time. Mold designs often need many rounds of revisions, which can be hard to do when working with a manufacturer overseas.
Mold Reworking. Upon arrival and inspection, North American companies often find that Chinese molds need to be reworked to bring them up to spec.
Benefits of Using a North American Moldmaker
While the upfront costs may initially appear higher, comparing the true cost of manufacturing in the U.S. versus China reveals some benefits of using an onshore supplier. These benefits include:
Cheaper Life-Cycle Cost. Manufacturing your molds in the U.S. decreases life-cycle costs by significantly reducing or eliminating costs associated with product reworks, repairs due to inferior materials, and downtime.
Greater # of Job Opportunities and Higher Ethical Standards- Bringing manufacturing operations back to the United States creates job opportunities for Americans, which bolsters both the local and national economies. Additionally, as the safety practices in other countries may not match those of their home country, investing in onshore operations allows them to protect their employees better
Better Environmental Friendliness- Shipping operations generate a significant amount of greenhouse gases. Domestic manufacturing and shipping operations enable companies to cut down on their carbon footprints by reducing the distance between their products and their customers.
Superior Customer Service- Domestic customer service centers prevent customers from perceiving a disconnect between themselves and the customer service representatives. Additionally, they minimize the risk of miscommunication occurring due to language barriers.
Meets Design Expectations. With better manufacturing processes and an understanding of North American design demands, U.S. suppliers deliver molds with automatic de-molding capabilities without the need for design revisions and reworking.
Higher Quality. U.S. mold manufacturers have access to high-quality materials and can meet your safety and quality control standards. This results in higher-quality molds with a significantly decreased risk of recalls.
How Rodon Beats China Pricing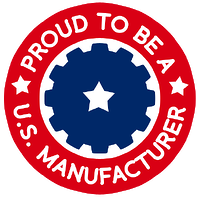 When you're navigating U.S. manufacturing versus China manufacturing, The Rodon Group can compete globally while keeping all manufacturing onshore. Rodon's high volume, U.S. manufacturing is backed by our Cheaper than China® pricing program, which is designed to provide your company with certainty surrounding pricing, delivery, and quality.
Our zero-defect manufacturing model reduces product quality risks, and all of our materials come from certified resin sources. Injection molds are manufactured in our OSHA-certified state-of-the-art facility and come with a lifetime tooling guarantee. When you partner with The Rodon Group for high-volume mold manufacturing, you can avoid international shipping delays and take advantage of revisions and changes without worrying about time zone or language barriers.
Working with us also eliminates the need for currency exchanges, ensures adherence to non-disclosure agreements and Patent protection, and gives you access to tool financing programs for improved cash flow.
Injection Molds from The Rodon Group
When considering Chinese injection mold manufacturing, the hidden costs of offshore sourcing are simply too risky. With Rodon's globally competitive manufacturing model, your final delivered costs will beat China pricing and generate net savings over your entire life-cycle. Stay competitive with Rodon's U.S.-made injection molds. For more information or to get started on your onshore mold solution, contact us today.